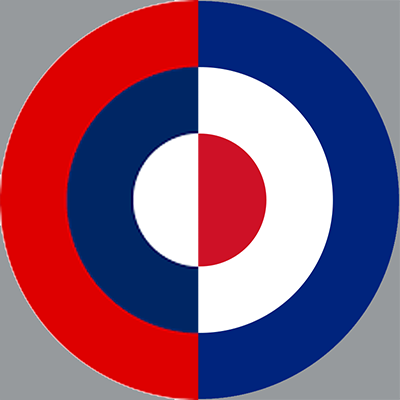 Explore
WW1 Royal Flying Corps
Cheshire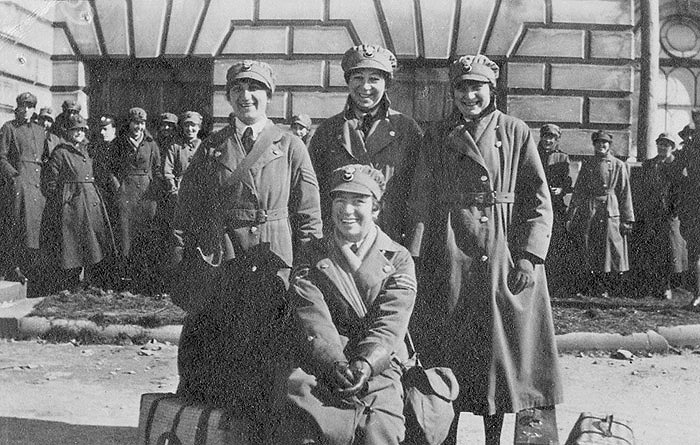 Womens Royal Air Force members leaving for overseas duties, from Hooton Park, 1919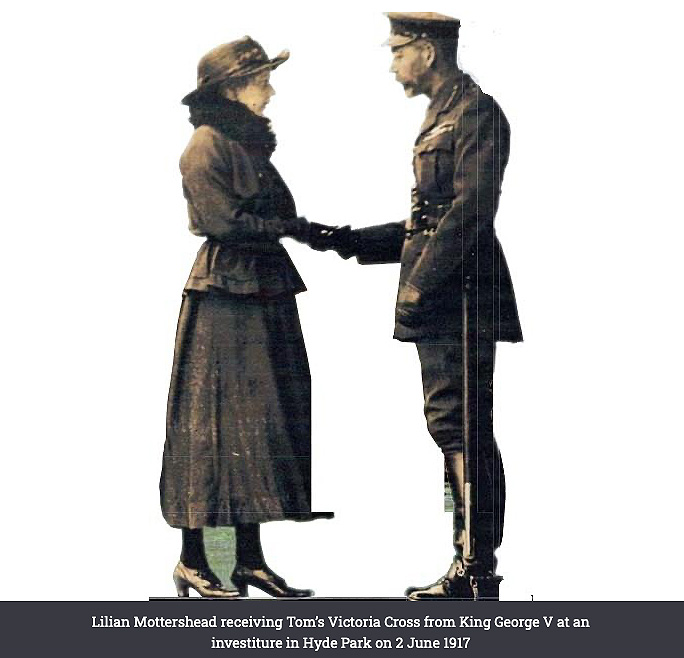 Peggy Mottershead from Widnes receives her husband's Victoria Cross from the King in Hyde Park, 2 June 1917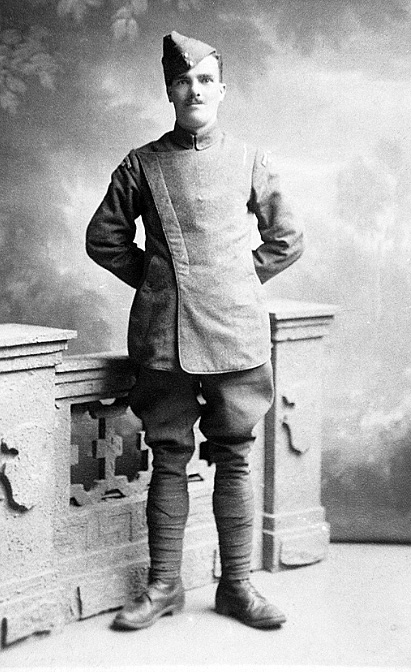 Sergeant Thomas Mottershead VC RFC For most conspicuous bravery, endurance and skill, when attacked at an altitude of 9,000 feet; the petrol tank was pierced and the machine set on fire. Enveloped in flames, which his Observer, Lt. Gower was unable to subdue, this very gallant soldier succeeded in bringing his aeroplane back to our lines, and though he made a successful landing, the machine collapsed on touching the ground, pinning him beneath wreckage from which he was subsequently rescued. Though suffering extreme torture from burns, Sgt. Mottershead showed the most conspicuous presence of mind in the careful selection of a landing place, and his wonderful endurance and fortitude undoubtedly saved the life of his Observer. He has since succumbed to his injuries.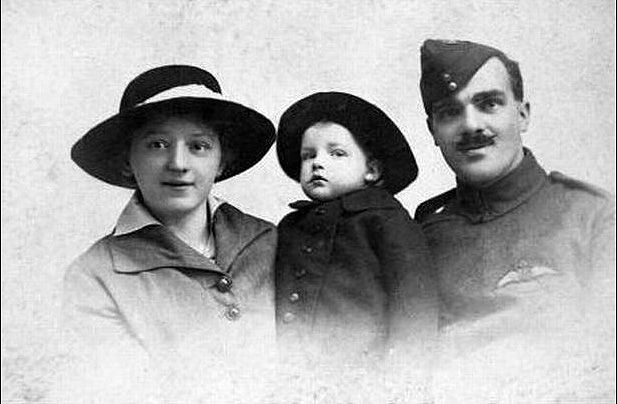 Lilian and Thomas Mottershead with their son Sydney
WWI U.S. Air Service 185th Aero Squadron Archive:
Identified World War I U.S. Air Service 185th Aero Squadron Archive Including Rare Tunic
1st Lieutenant Elihu H. Kelton (1897-1975) was a pioneering member of America's first night fighter squadron. In fact, he was one of the first American pilots to fly a combat night patrol mission. Known as the "Bats", the 185th Aero Squadron was the first and only night pursuit squadron organized by the United States during World War I, and its primary objective was to engage enemy aircraft in night interception missions. The squadron operated for less than a month before the November armistice. On the evening of October 30, 1918 Kelton engaged in a thrilling, nearly made for movie dogfight, against German ace Lieutenant Justus Grassman. Finding himself alone over enemy held territory Kelton spotted and attacked a single Fokker flown by Grassman. The two aviators traded bursts of machine gun fire until Kelton's Camel was too wounded to continue.
In Kelton's own words:
"As my plane came out of the last spin just a few feet from the ground and had lost most of its speed, and with the Fokker still sending a hail of bullets around me, I tipped my Camel over on one wing and crashed that way. Aside from a few scratches, bruises, the excitement of the fall and then the crash, I was alright. My opponent had landed a few hundred yards from me because my last shots had knocked out two of his cylinders."
Kelton was taken prisoner by friendly captors who offered him a cup of wine and two cigarettes. Grassman, on the other hand, was not so friendly. As Kelton explained, "He seemed intensely peeved at first that I had spoiled the motor in his Fokker and forced him to land. He asked why I had attacked him."
Kelton was Grassman's 8th aerial victory. He remained a POW for the remainder of the war, and when word reached the prison of the signed armistice, Kelton and two other officers escaped, crossed the Rhine River and walked to the front lines. Kelton was back with his squadron exactly one month later after being shot down. This lot is comprised of the following items: leather flight boots, leather flight helmet, tinted goggles, U.S. Army service visor cap, belt, 185th Aero Squadron pilot tunic with trousers, trunk, fantastic photo album of wartime photographs of aircraft both on the ground and in the air, pilots, and war torn cityscapes, Kelton's wartime experiences written in his own hand including pages from his diary, copy of Kelton's flight log, and Kelton's WWI dogtag. The trunk features a wonderful painted 185th Aero Squadron bat insignia along with his name on the exterior of the lid. Kelton's name and squadron affiliation are repeated on both short sides. One short side has a Railroad Express Agency label. The tunic features captain bars on the shoulders, U.S. Air Service officer collar insignia, enameled 185th Aero Squadron disc above bullion wings on the left breast, French aircrew badge on the right breast pocket, and 1st Army, 185th Aero Squadron insignia and overseas chevrons on the left sleeve. The combination is shown with Kelton in captivity, see Osprey, Aviation Elite Units, USAS 1st Persuit group. It is likely that Kelton, with three overseas trips (therefore one and a half years abroad), was breveted to the rank of Captain at the end of his service.
The trunk is very good with an absent lock and handle, a broken latch, and most of the painted 185th Aero Squadron insignia remaining. The tunic and trousers are very good with some wear along with some insect holes. The visor matches the condition of the tunic and trousers with most of the sweatband stitching absent. The worn flight helmet is good. A rare and historically significant identified WWI U.S. Air Service archive from America's first night fighter unit, the 185th Aero Squadron.
Source: proxibid.com